A guide to choosing your cycle carrier:
There are 3 main types of Bike Racks: Roof Mounted Cycle Carriers, Rear Door Mounted Cycle Carriers and Tow Bar Mounted Cycle Carriers. Choosing which kind is best suited for is can be dificult, but it is largely dependent on your vehicle, whether you have a tow bar fitted and, if you do, what kind of towbar you have. The bike racks we have to offer allow you to attach multiple bicycles to your vehicle, with minimum effort. We only stock products from leading manufacturers such asWitter, Westfalia and Thule, so you are guaranteed a long lasting, durable product.
Roof Mounted Cycle Carriers:
Roof Mounted Cycle Carriers are attached to the roof of your vehicle via roof bars. If you already have roof bars fitted to your vehicle, this may be an option for you! However, if you don't already have roof bars, and you would prefere a roof mounted cycle carrier, you might be able to purchase after market roof bars. A disadvantage to roof mounted cycle carriers is having to lift the bike on top of the vehicle and then attach it. This can be awkward and can result in damage to the vehicle should you drop the bike.
[nggallery id=14]
Rear Door Mounted Cycle Carriers: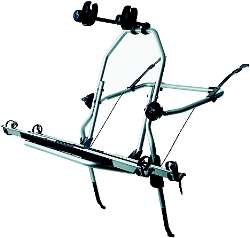 The Rear Door Mounted Cycle Carriers are perfect if you do not have a tow bar fitted or roof bars fitted. This options allows you to carry your bikes with not modifications made to the vehicle. However, this form of carrier does have several drawbacks when compared to other options.  As the carrier is only secured by straps, they can become loose and most manufacturers recommend tightening the straps every 2 hours. Furthermore, as the carrier is not securely attached, theft of the carrier and / or bicycles is possible. It is also a possibility that your number plate / rear lights could be obscured by the carrier which could result in points on your license and a fine, should you be pulled over.
Tow Bar Mounted Cycle Carriers: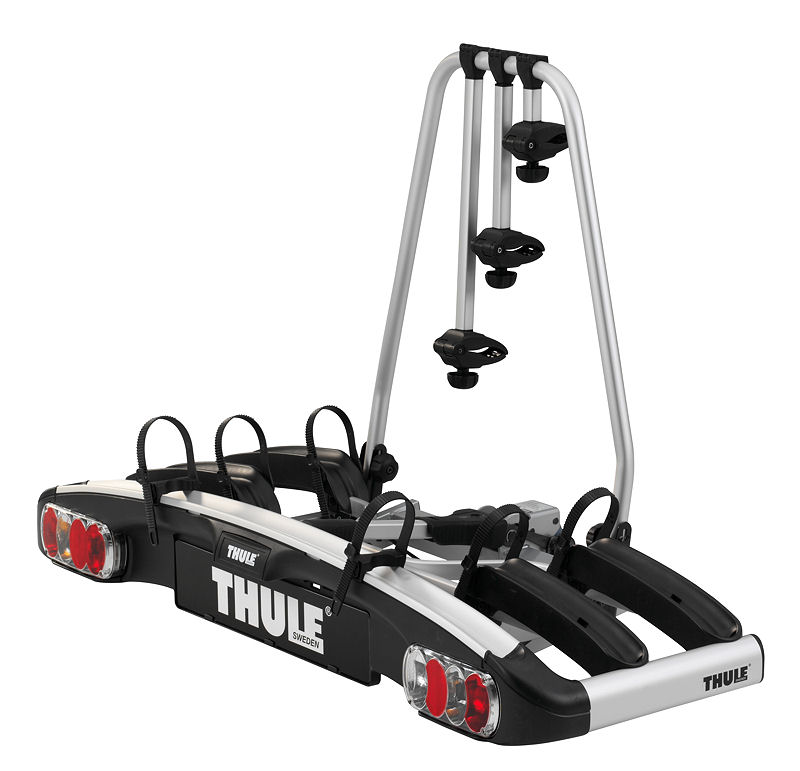 By far, the best option is the tow bar mounted cycle carrier. Not only do these have a attachment point to fix to the vehicle to provide a much more secure structure, but most well made systems also come with a light bar and space for your number plate. Some tow bar mounted options also allow the boot to be opened without the need to remove the bikes and can be fitted in less than two minutes.
[nggallery id=15]
Maxx Raxx
It is a common misconception that 'bike racks can not be fitted to swan neck tow bars'. This is most certainly not true and stock a line of products from Maxx Raxx to allow you to do so.  Maxx Raxx specialise in making bike racks for vehicles which would previously have not been able to have a rack fitted, such as vehicles with a spare wheel mounted on the rear of the vehicle or vehicles fitted with Swan Neck tow bars. We are an authorised Maxx Raxx dealer / fitter.
We have a selection of bike racks on show in our shop. For more information please stop by or call us. If you have any questions, please use the contact form or call us on 01782 574 900.